Welcome to the B&H Weekly Newsletter!
Thank you for subscribing to the B&H Newsletter, dedicated to sending you information on new products, technologies, and brands, plus hands-on reviews by our staff professionals. To get the most out of our email, we encourage you to select the product categories that best fit your personal needs.
B&H Weekly Newsletter:
The latest information on new products, technologies and brands, plus hands-on reviews by our staff professionals
Hands-on Review
Bring Power ONsite with Tether Tools Latest System
Even the best cameras in the world need batteries, same as your laptop, smartphone, tablet, monitor, and, I'm assuming, a ton of your photo accessories. When you are at home or in the studio, it isn't much of an issue. You just plug everything into the wall outlet to charge or stay powered up. READ MORE>
New Meikie Lenses
Save and get the most out of your mirrorless or DLSR camera with lenses by Meike. Constructed for durability and featuring multi-coated optics, these lenses are available in a wide variety of focal lengths for many popular lens mounts.
$269.99
5" / 5.5" FOCUS Base Monitors
SmallHD has announced its new FOCUS base monitor offerings, featuring the 5" FOCUS LCD HDMI, the 5" FOCUS LCD SDI, the 5.5" FOCUS OLED HDMI, and the 5.5" FOCUS OLED SDI models as just the base monitors without a tilt arm or accessories, and at a lower price, so you can make your own choices. READ MORE>
$399.00 - $699.00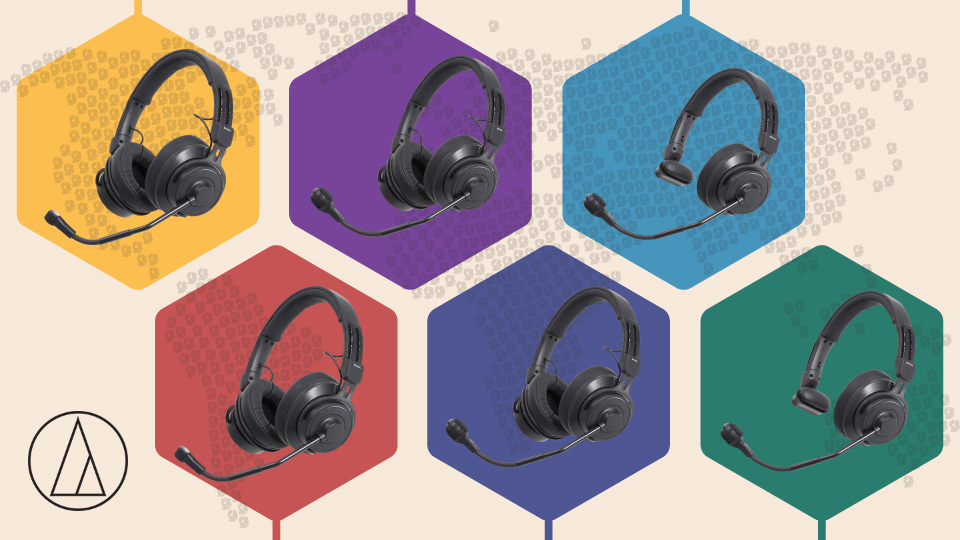 Buying Guide
Audio-Technica Broadcast Headset Comparison
Audio-Technica has long been well known as a maker of fine headphones and microphones. It stands to reason that the company would combine its expertise in those two areas to create broadcast headsets that are well suited for news, sports, and theater production. READ MORE>
MOTU Digital Performer 10
The MOTU Digital Performer 10 is powerful audio/MIDI music production software offering unlimited tracks, sequences, and songs for songwriting, beat-making, live performance, film and video soundtracks, audio post production, surround mixing, and other professional audio production tasks. READ MORE>
$495.00
Blue Ember
The Blue Ember is a cardioid condenser microphone offering an open, detailed sound and an unobtrusive appearance for podcasting, studio recording, live streaming, and more. READ MORE>
$99.99

Light Shaping Gear
MagMod maximizes the potential of your shoe-mount flash. The MagRing supports two flashes, mounts to the MagShoe and can be handheld or stand-mounted.
$59.95 - $499.95
With only a week to go until its Special Event in Cupertino, Apple surprised us with an unexpected unveiling of two new iPads: a 10.5-inch iPad Air and a 7.9-inch iPad mini. The new devices round out Apple's prestigious 2018 iPad lineup, cementing the notion that there really is an iPad for every type of user. READ MORE>
Price from: $399.00
15.6" Predator Triton 500 Gaming Laptop
Game like a pro with the 15.6" Predator Triton 500 Laptop. Featuring a 2.2 GHz Intel® Core™ i7-8750H hexa-core processor, up to 32GB of memory, up to a 1TB solid-state drive, and a Full HD 1920 x 1080 IPS display, this laptop provides all the power you need.
$1,799.99 - $2,999.99
Covr Tri-Band Whole Home AC2200 Tri-Band Wi-Fi System from D-Link.
Blanket your home in wireless coverage with the Covr Tri-Band Whole Home AC2200 Tri-Band Wi-Fi System from D-Link. Each of the two tri-band Covr Points in this whole-home Wi-Fi system supports the Wi-Fi 5 (802.11ac) Wave 2 standard, and each comes equipped with a pair of Gigabit Ethernet ports. READ MORE>
$299.99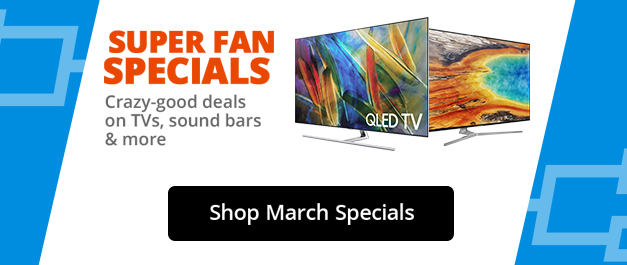 New QLED TVs from Samsung
Samsung's new lines of QLED TVs are arriving, and there is quite the variety to choose from. The Q60 series, for instance, is available in 49", 65", and 75" sizes, which feature 4K UHD resolution, Quantum HDR 4x, support for the HDR10, HDR10+, and HLG HDR formats... READ MORE>
$997.99 - $6,997.99
Ultimate Ears Refines the BOOM 3 & MEGABOOM 3 Wireless Bluetooth Speakers
Ultimate Ears didn't change its formula for a great speaker with its third-generation BOOM 3 and MEGABOOM 3 Bluetooth Wireless Speakers. Compact enough to be portable, but powerful enough to make an impression, these speakers are designed to impress. Never miss a sound, with 360-degree audio with surprising bass, and an energetic profile.
$149.99 - $199.99

Hurry! Deals End March 20, 11:59PM EST, or While Supplies Last (whichever comes first).
Prices, specifications and images are subject to change without notice. Not responsible for typographical or illustrative errors. Manufacturer rebates, terms, conditions and expiration dates are subject to manufacturer's printed forms.
The B&H SuperStore is located at 420 9th Avenue at 34th Street in New York City.
Visit and Experience B&H whenever you are in New York.